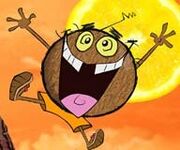 Coconut Fred is the eponymous protagonist of Coconut Fred's Fruit Salad Island. He a is a coconut and the founder of Fruit Salad Island.
Appearance
Edit
Fred appears to be a small anthropomorphic coconut with orange swim trunks.
Personality
Edit
A happy-go-lucky coconut with a strange imagination. Fred has the special ability to turn whatever he imagines into reality. He can often be heard with his trademark catchphrases "Yay me!" and "Now You're Talking, Coconut!".
Relationships
Edit
Abilities and Powers
Edit
Anything Fred thinks of comes true, in "Master of Disaster ", he was responsible for creating Melvin the volcano. He is also able to make it day or night.
He holds the record for attempting to break the most records in one day.
Ad blocker interference detected!
Wikia is a free-to-use site that makes money from advertising. We have a modified experience for viewers using ad blockers

Wikia is not accessible if you've made further modifications. Remove the custom ad blocker rule(s) and the page will load as expected.